FortmanSpann is one of the few firms in the United States that is experienced in franchise law, focuses on representing the rights of franchisees, and is reasonably priced in order for franchisees to afford high-quality legal representation. We represent franchise clients all over the United States in various State Courts, Federal Courts, arbitrations, and mediations. We have pursued (and won) cases that other attorneys have turned away. We possess the skills and experience necessary to represent franchisees in a variety of business considerations and disputes. Contact our Florissant, Missouri office for a consultation today.
Purchasing a Franchise? Let Us Help You With The Process.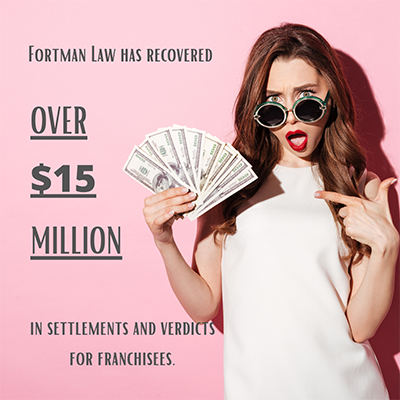 Purchasing a franchise is an exciting time! However, it can quickly become a nightmare. Failure to properly consider all information can lead to financial devastation. (Ask many of our clients!)
We are an experienced franchise law firm. We can assist those who are considering the purchase of a franchise. As part of our service, we analyze all documents from the franchisor, the financial condition and reputation of the franchisor to name a few. We assist our clients in setting realistic goals and expectations rather than relying on the sales pitch of the franchisor or franchise consultants. Our goal is to assist the client in fully evaluating the risks and opportunities surrounding the franchise.
A Franchise Consulting Company Is Not the Same as A Franchise Attorney.
Most franchise consulting companies only make money by selling franchises. They typically do not highlight the risks or obligations, only the potential rewards. We explain all the pros and cons so that you can make a truly educated decision.
Do not gamble with your financial future. We take franchise consultations so seriously, that we created a separate website full of free resources and details about the services we provide to help you thoroughly research your potential investment before you sign on the dotted line.
Already Own A Franchise? When Franchise Endeavors Go Bad, We're Here To Help.
If you have purchased a franchise and are having difficulties with the franchisor, we can help. We can assist you in addressing your concerns. If the franchisor misled you, we can be your advocate. Many times the franchisor will make you feel like it's your fault that you are struggling. However, in some instances, the franchisor has given inaccurate information and has failed to meet its obligations to you.
You are not alone. We have assisted many franchisees in cases/situations against the franchisor. Please contact us (for free and with no obligation) if you have any concerns with your franchisor. Do not try to go it alone. You can bet that the franchisor has its legal team ready to beat you down.
Get an experienced franchise attorney behind you who will hold the franchisor to their obligations.
Additional Franchise Law Practice Areas:
Breach of Contract

Fraud

FDD disclosure violations

Encroachment

Failure to renew

Unreasonable system-wide changes

Issues related to supply chain sourcing and pricing

Termination

Non-complete clauses

Franchise Renewals

Franchise sales or transfers

Churning
At FortmanSpann, we can guide our franchise clients through all the phases of franchising, including initial investigation of a franchise opportunity, franchise ownership, and termination/exit of the franchise relationship.
Current/Former Cases & Investigations
For help with your franchise law issues, contact us today at the Law Office of Jonathan E. Fortman in Florissant, Missouri and schedule a free consultation.
---
Additional Blog Resources: